Huawei Honor V6 10.4 inch KRJ-W09 Wifi 64GB Black (6GB RAM)
Huawei Honor V6 10.4 inch KRJ-W09 Wifi 64GB Black (6GB RAM)
Marca: Honor
Código do Produto: E0CRNCMSYS
Informação importante
Google Play : No
Language : English and Chinese
Xiaomi/ZTE/Lenovo/Asus

English, Simple Chinese, Traditional Chinese
Huawei/Honor
English, Japanese, Arabic, Afrikaans, Bengali, Amharic, Bulgarian, Burmese, Catalan, Croatian, Dutch, Czech, Danish, French, English, Finnish,
Greek, German, Hindi, Hungarian, Hebrew, Indonesian, Italian, Khmer, Latvian, Malay, Norwegian, Persian, Portuguese,
Polish, Russian, Romanian, Serbian, Swedish, Spanish, Turkish, Thai, Ukrainian, Vietnamese, Simple Chinese, Traditional Chinese,
Urdu, Armenian, Zulu, Macedonian, Swahili, Estonian, Lithuanian, Slovak, Slovenian
Vivo/iQoo
English, Japanese, Korean, German, French, Italian, Spanish, Dutch, Portuguese, Arabic, Russian, Indonesian, Vietnamese, Tibetan, Uyghur,
Tagalog, Urdu, Nepali, Hindi, Bangla, Sinhala, Thai, Lao, Burmese, Khmer, Simple Chinese, Traditional Chinese
Realme/Oppo/Oneplus
English, Japanese, Korean, French, Russian, Arabic,Tagalog, Indonesian, Malay, Vietnamese, Uyghur, Nepali, Hindi, Bengali, Thai,
Lao, Tibetan, Burmese, Khmer, Simplified Chinese, Traditional Chinese
We are able to suggest an app MoreLocale2 to add languages. However, please do take note that we do not guarantee quality of language or compatibility with device.
Especificações
| | |
| --- | --- |
| Item | Details |
| Google Play | No |
| Language | English and Chinese |
| CPU | Hisilicon Kirin 985 Octa Core |
| OS | Android 10.1 |
| RAM | 6GB |
| ROM | 64GB |
| Memory Card slot | Micro SD Card up to 512GB (not included) |
| Additional Features | G-sensor, Light Sensor, Gyro, Compass, GPS, Hall Sensor |
| Screen Size | 10.4 inch |
| Screen Type | IPS Capacitive Screen |
| Resolution | 2000 x 1200 |
| Camera Quantity | Dual |
| Front Camera | 8.0MP |
| Back Camera | 13.0MP |
| Battery | Non-detachable Li-Polymer, 7250mAh |
| WiFi | 802.11a, 802.11b, 802.11g, 802.11n, 802.11ac, Support, 2.4GHz/5GHz |
| Bluetooth | Support, V5.1 |
Descrição
Design inspiration from nature puts delight in your hands
Kirin 985 flagship chip, leading 7nm process technology, brings higher integration and lower energy consumption. Huawei's Da Vinci Rubik's Cube 3D architecture, magnificent Al computing power, 8-core CPU + 8-core GPU, give you a thorough and smooth.
Faster Wi-Fi 6+ Internet surfing 666
Huawei's proprietary Wi-Fi 6+ technology, 160MHz bandwidth, maximum connection rate up to 2.4Gbps, faster network rate, stronger signal coverage. Through the wall is better and more stable. The sea of people is still unstoppable, and it has Wir-Fi 6 authoritative certification by Tell Lab.
Multi-screen collaboration Mobile phone + tablet to get one screen
Mobile phones and tablets are connected in many ways, not just simply dragging and transferring, you can even drag videos directly into the Wanxing Meowing APP for quick editing, large-scale creation is easy and efficient.
This pen is better than expected
Flanker writing, collision inspiration. 160mm integrated hexagonal design, 4096-level pressure sensitivity, high heel chirality, low latency, and sensitive response. Smooth writing, no traffic jam. Soft nib design, more damping, writing is not slippery.
Screen shorthand - Seize the moment of inspiration
The starting point of creation starts with touching the pen. Touch the screen with the pen tip to enter the memo directly. Creation, drawing and painting come hand in hand. More lasso function, drag at will, modify more convenient.
Add another step to document processing, Faster than handwriting, cooler than typing
With the smart Bluetooth keyboard, the document processing efficiency of the Honor Tablet V6 has been improved by a big step. Convenient text input with easy-to-use multi-tasking, editing documents quickly and well! Three major WPS functions: Brush free crop, Smart portrait cutout, Ink annotation.
Smart Split Screen - Challenge multitask easily
With the smart split screen, you can search for new words while chasing American dramas, or you can take notes while taking online lessons, making work and study easier. Support multiple apps to use at the same time. no matter how many tasks can be easily held.
Screen sharing Hands-on teaching
Connect to the phone to support screen sharing, hear its voice, see its person, and see the other party's screen, making remote hands-on teaching easier.
Education Center One-stop learning
The education center integrates mainstream education resources and one-stop learning to achieve full coverage from preschool to adult.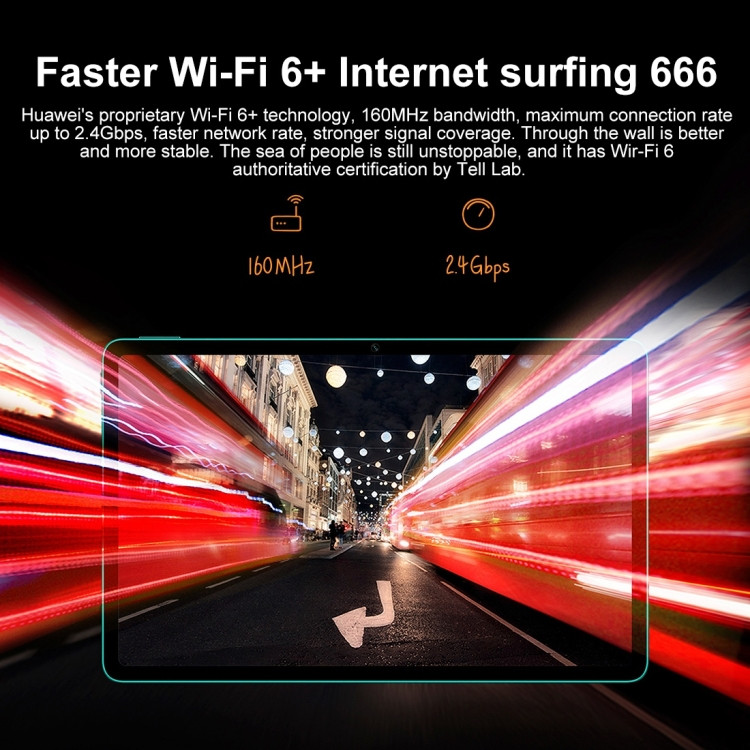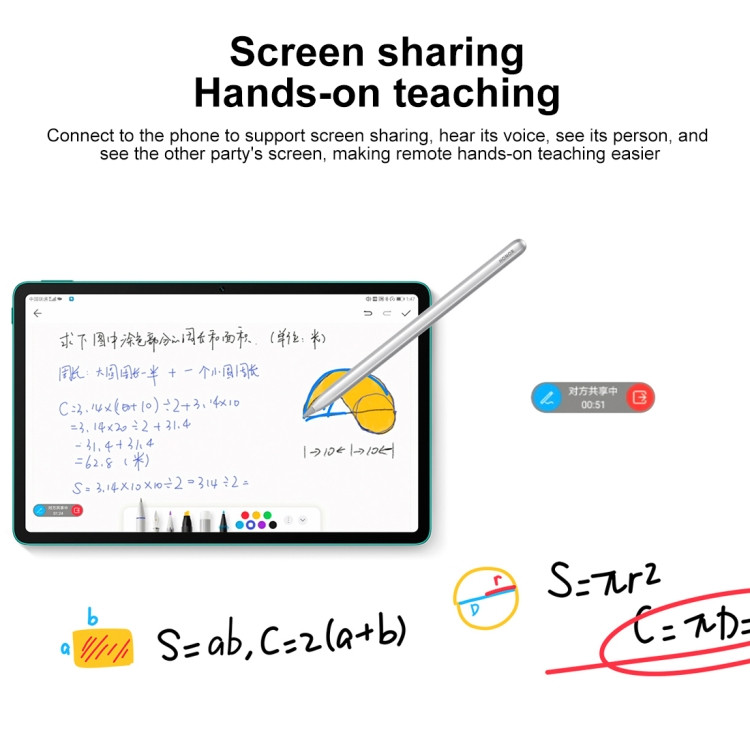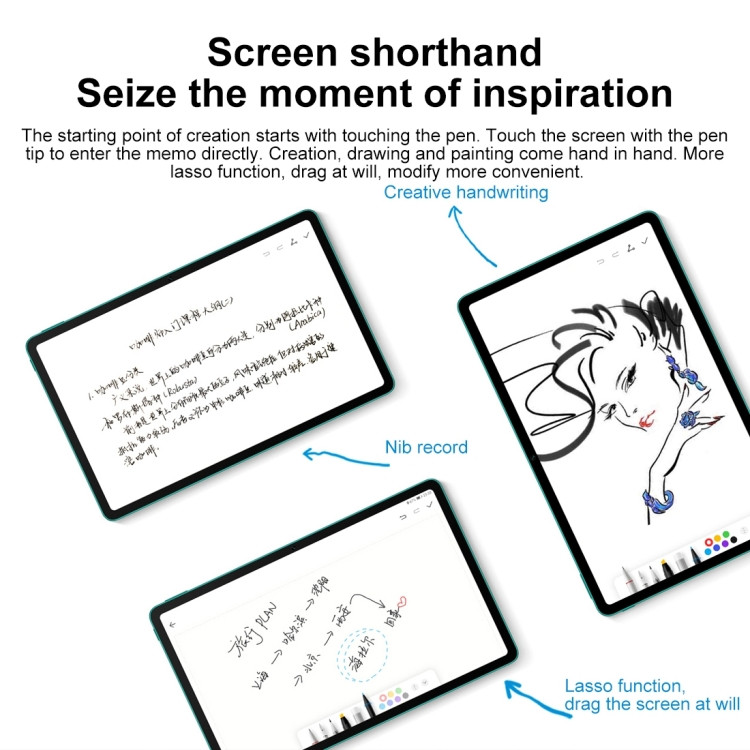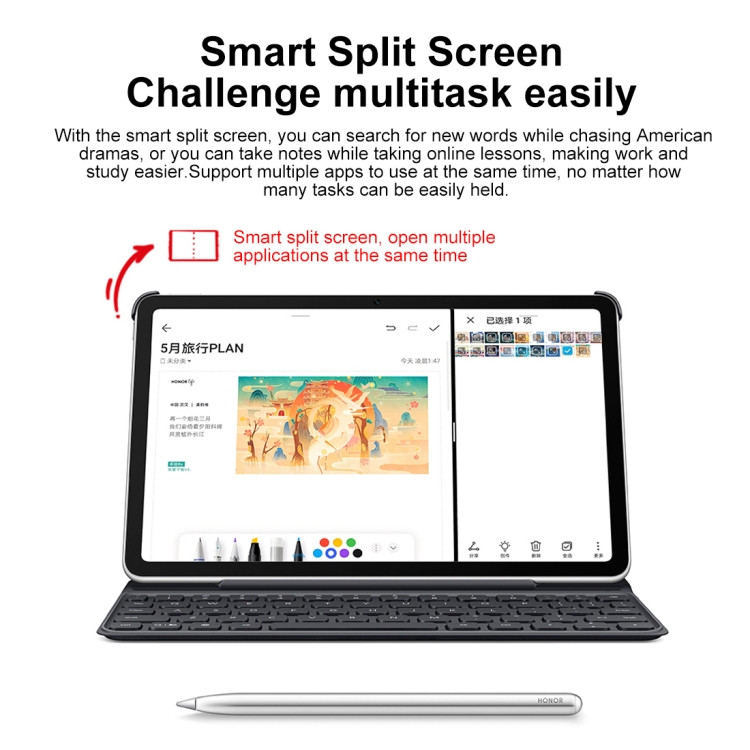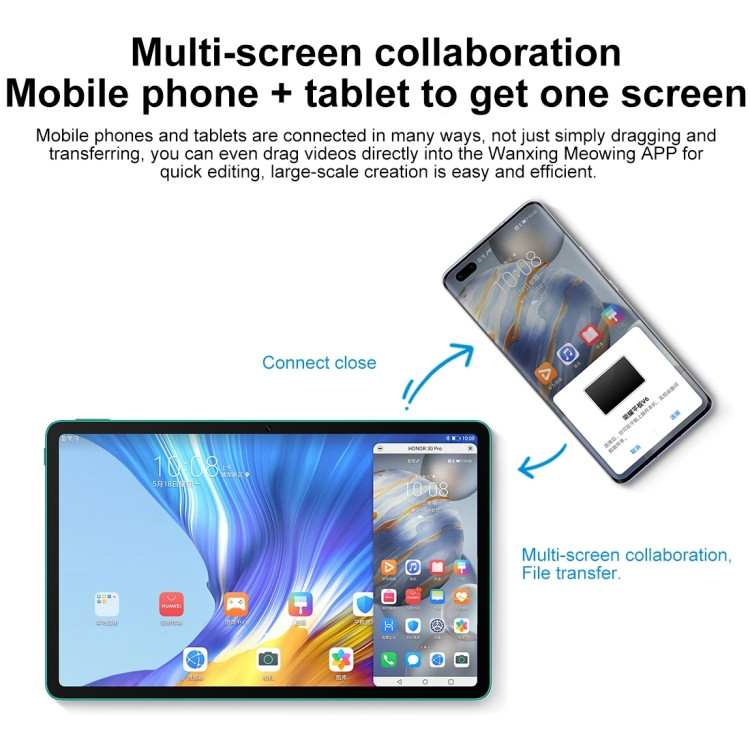 Perguntas e Respostas Clientes